I have have got 2 funny loots today. This had never happend before to me. I am not able able to post these pictures in the official forum, so I do it here.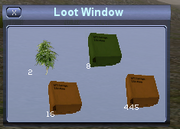 Two icons of the same item in ONE loot.
Unfortunately I have not recorded the second time, it was NATO Ammo again, btw. Both loot happend within 5 minutes.